Do more with Azure Automation and transform your Code to

Self Service

with au2mator
It takes just 3 Easy Steps to Self Service your IT with Azure Automation.
Why

do you need a Self Service Portal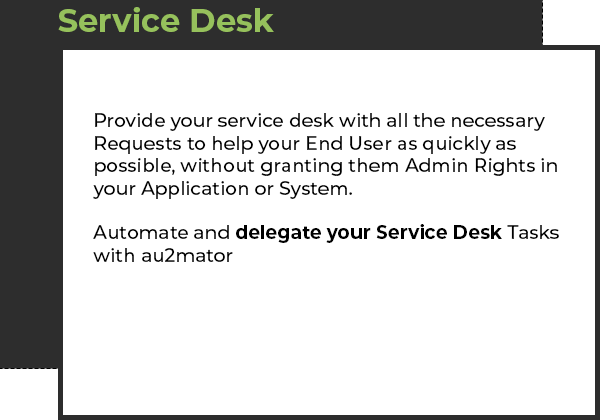 The possibilities are
endless…
Sign up for

Free Community

Download
Your email is added to our newsletter, but you can stop our emails anytime you want, we don't spam, cause spam sucks. By clicking on "Send me the Link" you will accept our Policy Terms
Using au2mator brings


you amazing

Results
Reduce your Domain Admins
or Application Admins by
providing Self Service Forms
and Automation.
No accident errors can happen
If you get three different answers from 3 other people on how they implement a specific Process, you need to react!
Build Self Service Forms to delegate routine tasks to your End User or Help desk Team.
No IT Admin needs to reset User Passwords or create new Users.
Do not pay for people, doing daily routine tasks on your business.
Use them to take your IT to the next level and increase the Quality
When a User is solving a Request in a short time, they are happy and more reliable
Nothing is more boring than doing the same task every day, so automate and Self Service your IT
Sounds Interesting? Let's talk about your specific needs.
It is time to start using your time for the important things.
Start Create your Self Service Portal for Free