Do more with

Microsoft Azure Automation

and transform your Runbook to Self Service with

au2mator
Learn how w
e help IT Departments to save time and money by automating and delegating AZURE tasks.
We live in an automated world where IT departments are often stretched thin, managing an ever-growing list of responsibilities while trying to keep operational costs low. Many businesses are powered by Azure's extensive suite of services, from computing power and storage options to machine learning, data analytics, and Internet of Things (IoT) capabilities. Au2mator is a powerful Self-Service platform for routine Azure management tasks that supports businesses in building comprehensive, robust solutions tailored to their specific needs.
Delegate your
Azure tasks

to your Users, not the IT Department.
Au2mator is a self-service portal that acts as an interface between users and Azure Automation runbooks, allowing non-technical staff to execute complex Azure operations – without having to write a single line of code. With a few clicks, users can run predefined runbooks for tasks like provisioning virtual machines, managing user permissions, or even restarting services. By setting up au2mator, you can empower your end-users to handle routine Azure tasks, freeing up valuable IT resources and accelerating the decision-making process. This way, the IT department can focus on more complex issues wh
Power up with seamless control and compliance: Elevate your Azure management with
au2mator's
 One-Click Approvals
Add extra approval steps to ensure new requests meet your organisation's guidelines. When a user makes a request via the au2mator self-service portal, the request can be configured to trigger an approval process that involves specific stakeholders, like team leads or department heads. This ensures that actions taken are compliant with company policies.
Unmatched reliability and transparency with automated documentation
Say goodbye to the manual, error-prone processes that often accompany Azure management tasks. Our powerful tool ensures that every action taken is both documented and automated, offering an exceptional layer of transparency and reliability. Whether you're using PowerShell, Azure Automation, SC Orchestrator, or SC SMA for your backend logic, au2mator integrates seamlessly, capturing each step of the process. This automated documentation is invaluable for compliance audits, troubleshooting, and for understanding the lifecycle of your Azure resources. So, not only does au2mator empower end-users to take on tasks traditionally left to IT, but it also provides a comprehensive, automated documentation trail that can serve multiple business needs.
Why

do you need a Self Service Portal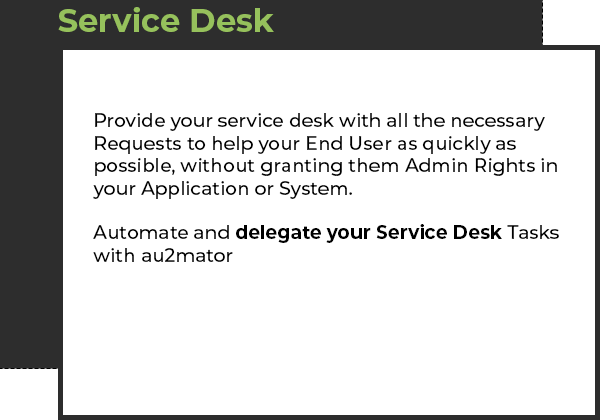 Why you should automate tasks with Microsoft Azure and
au2mator

:
Increased Security:

au2mator plays a significant role in enhancing your system's security. By providing self-service forms and automated solutions, it reduces the need for a vast number of domain or application admins, mitigating the risks of accidental errors and security breaches.

Improved Quality:

Quality assurance is one of the paramount benefits of au2mator. If you're struggling with inconsistent process implementation across your team, au2mator is the solution. It standardizes procedures, leading to improved quality and uniformity in task execution.

Time-saving:

With au2mator, you can delegate routine tasks to end-users or your helpdesk team through self-service forms. High-frequency tasks like resetting user passwords or creating new users can be handled without IT admin intervention, saving precious time.

Cost Efficiency:

Optimize your workforce with au2mator. Instead of having your staff preoccupied with daily routine tasks, you can now utilize them for more strategic, high-level tasks in your IT environment. This can lead to substantial cost savings and more efficient resource allocation, ultimately allowing you to enhance the overall quality of your IT services.

Happy Users:

Quick and efficient problem resolution leads to satisfied users. With au2mator, end users can self-service their requests, reducing resolution time and enhancing their experience and reliability.

Happy IT Staff:

Lastly, au2mator makes for happier IT staff. By automating routine tasks, your IT team is free from monotonous daily chores and can focus more on strategic tasks that enhance their skills. When your staff is happy, they produce better results, creating a win-win situation for everyone.
The possibilities are




endless…
Please fill out this form to get access to our free Community au2mator Self Service Portal. It is the full version only limited by the number of services you can use.