Unleash the full power of
PowerShell automation

: Integrate, optimize and automate your PowerShell script with au2mator.
Do more with PowerShell and transform your Code to Self Service with
au2mator
It takes just 3 easy steps to self service your IT with PowerShell. Harness the command-line power of PowerShell coupled with our intuitive self-service portal of au2mator to ignite your automation potential. Discover how you can automate administrative tasks, scripts, and execute tasks in a simple, efficient manner. This is a power-packed guide, specifically crafted to help you understand and employ PowerShell automation, even if you're just starting out.
Exploring au2mator: Your Automation Tool for Microsoft PowerShell
Au2mator is a self-service automation portal that takes PowerShell-based automation to new heights. It allows users to automate tasks with PowerShell and manage these automated scripts effortlessly. au2mator works hand-in-hand with PowerShell, making task automation even more powerful and accessible to its users. Running PowerShell scripts has never been easier than with au2mator.
Streamline your IT with
au2mator

and PowerShell automation
Au2mator is an invaluable ally for streamlining your PowerShell automation process. Au2mator empowers you to automate and delegate your service desk tasks, enabling your support team to assist end-users rapidly and efficiently. It manages this without necessitating any admin rights in your apps or systems, therefore maintaining security protocols. By automating standard daily tasks, au2mator ensures that your core IT staff can dedicate their focus, and attention to addressing complex challenges and enhancing your environment.
With the motto to "au2mate everything" but also to "record everything", it ensures that all your requests are meticulously documented and archived. This leads to an enhanced governance model, providing complete transparency for all your actions.
One of the prime features that make au2mator an essential tool in task automation is the provision for managers to approve service requests directly within the portal. Managers can also kick-start requests on behalf of team members, assisting in common tasks such as password resets, access request approvals, user details updating, and more. This feature eradicates the need for IT staff intervention, making the process more streamlined and efficient.
Au2mator provides a user-friendly service catalog for end-users, enabling them to help themselves. This self-service capability drastically reduces the workload on your service desk while significantly accelerating resolution times. With au2mator, your requests can be resolved rapidly, enhancing productivity and user satisfaction levels in your organization.
Why

do you need a Self Service Portal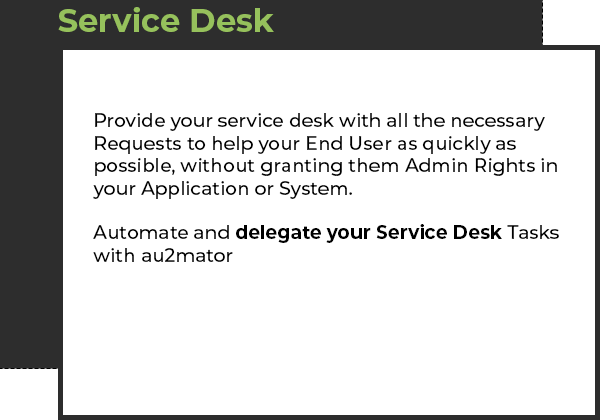 Why you should automate tasks with PowerShell and
au2mator

:
Increased Security:

au2mator plays a significant role in enhancing your system's security. By providing self-service forms and automated solutions, it reduces the need for a vast number of domain or application admins, mitigating the risks of accidental errors and security breaches.

Improved Quality:

Quality assurance is one of the paramount benefits of au2mator. If you're struggling with inconsistent process implementation across your team, au2mator is the solution. It standardizes procedures, leading to improved quality and uniformity in task execution.

Time-saving:

With au2mator, you can delegate routine tasks to end-users or your helpdesk team through self-service forms. High-frequency tasks like resetting user passwords or creating new users can be handled without IT admin intervention, saving precious time.

Cost Efficiency:

Optimize your workforce with au2mator. Instead of having your staff preoccupied with daily routine tasks, you can now utilize them for more strategic, high-level tasks in your IT environment. This can lead to substantial cost savings and more efficient resource allocation, ultimately allowing you to enhance the overall quality of your IT services.

Happy Users:

Quick and efficient problem resolution leads to satisfied users. With au2mator, end users can self-service their requests, reducing resolution time and enhancing their experience and reliability.

Happy IT Staff:

Lastly, au2mator makes for happier IT staff. By automating routine tasks, your IT team is free from monotonous daily chores and can focus more on strategic tasks that enhance their skills. When your staff is happy, they produce better results, creating a win-win situation for everyone.
The possibilities are




endless…
Please fill out this form to get access to our free Community au2mator Self Service Portal. It is the full version only limited by the number of services you can use.