Empowering Automation: Streamline your IT Processes with au2mator.
au2mator provides a Self Service Portal to trigger Microsoft Automation and get the most out of PowerShell, Azure Automation, and System Center Orchestrator. Delegate your Automation Tasks, evolve your IT, and increase your Quality and Reliability.
au2mator can help define and automate your IT Process.
au2mator is here to make the best out of your IT Budget and give back time to your IT Staff.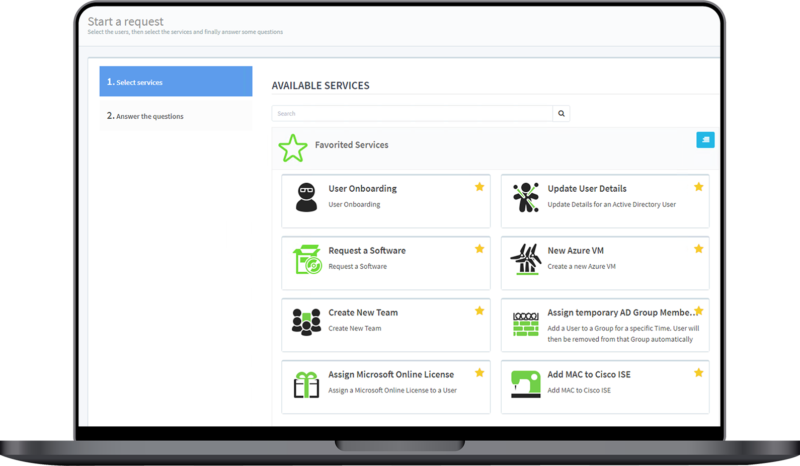 One Self-Service Portal,

3 Automation-Engines

to use!
The possibilities are




endless…
Create a Service
You will be able to present your Runbooks as a Service within 1 Minute.
Just enter a Name, Description, and choose your Runbook. There is no easier way to let your users help themselves.
If you want to spend an additional Minute, configure additional Runbooks, Approvers, Security, and customize your Questions.
Manage your Team
Easily manage your Team, get their user details, and start a Service for them.
Your team Information is life from Active Directory based on your  "managed by" Setting or based on Group Memberships or both.
You don't need to change your Active Directory, au2mator – Self Service Portal will fit in your Active Directory.
Question Parameters
There are many options to make your Questions more user-friendly and more secure with regular expression.
Text, Date, Dropdown, Yes or No, SQL, LDAP, Powershell, and a lot more.
Approve a Request
If you configured your Service to be approved, you could easily do this with au2amtor – Self Service Portal.
You will be able to see all the essential Details on one Page. Click "Approve" or "Deny," the choice is yours.
User Details
See your and your Team's user details based on the Information from Active Directory.
au2mator – Self Service Portal will let you choose the Properties you want to have available.
Using au2mator brings


you amazing

Results
Reduce your Domain Admins
or Application Admins by
providing Self Service Forms
and Automation.
No accident errors can happen
If you get three different answers from 3 other people on how they implement a specific Process, you need to react!
Build Self Service Forms to delegate routine tasks to your End User or Help desk Team.
No IT Admin needs to reset User Passwords or create new Users.
Do not pay for people, doing daily routine tasks on your business.
Use them to take your IT to the next level and increase the Quality
When a User is solving a Request in a short time, they are happy and more reliable
Nothing is more boring than doing the same task every day, so automate and Self Service your IT
Sounds Interesting? Let's talk about your specific needs.
Why

do you need a Self Service Portal